We Deliver Excellence in Performance Marketing,
You will Grow in Both Business and Knowledge

A FRENCH CONSULTING AGENCY… IN BUENOS AIRES
Created in 2006, at 11062 km from Paris, Soyculto quickly became a leading Inbound Marketing agency .
Its founder, Sebastien Yanni, along with his team support each customer's growth project through digital transformation.
Soyculto offers high profitability level services. To do so, we lean on a multicultural team of experts in Marketing Management and rely on an International network of specialists.
The agency is based in Buenos Aires, one of the most creative capitals in the world, where diverse talents exercise. The cultural proximity with Europe and the Americas is a major advantage to ensure the best balance between competitiveness and efficiency in solutions deployments.
Soyculto's working processes and pragmatic solutions allowed the agency to take place in the whole world. Thus, since its creation, Soyculto has already led project in more than 20 countries with customers from America (North and South), Europe and Middle-East countries.
Soyculto claims to be Porteña (that is to say Buenos Aires inhabitant) by heart, French by its savoir-faire and International by its team and customers.
Multicultural and Multilingual Team
Soyculto has a strong multicultural and multilingual team of talented professionals.
Among its marketing, management, digital specialist partners, you will find: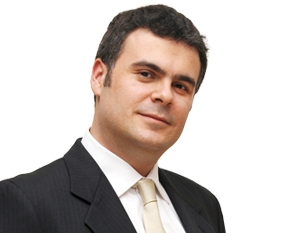 Sebastien Yanni
Principal Partner, Operations Director
Sébastien is a strategy and inbound marketing Expert, Passionate digital transformation Architect, SEO, PPC, Social Media, Email PPC, Conversion Specialist Marketer, Didactic Speaker and Generous Raconteur, Enthusiastic Entrepreneur, Caring Father of 2 and Loving Husband.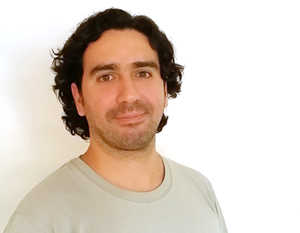 Gabriel Perdomo
Senior Creative & UX Designer
Gabriel is a Web and Graphic Designer with Great Ambitions. Very Enthusiast about Creative and Digital Trends, he approaches the Challenges of Creative Process by providing Visual Solutions that maintain Balance and Forward Thinking.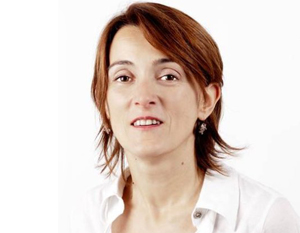 Corinne Petrelli
Partner, Strategic & Content Marketing
Pragmatic, Dynamic and Analytical, Corinne sets the standards for Strategic and B2B Marketing. Multi-faceted Marketer, Exacting and Curious, Corinne designs
impacting content to produce sustainable results. Generous Trainer, Devoted Mother and Zumba Addict.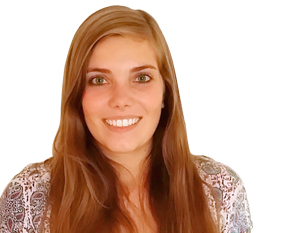 Pauline Giraud
Junior Digital Marketing Leader
Pauline is a Web Marketing assistant, she develops her Skills in Inbound Marketing, SEO, Social Media in Soyculto. Student, passionate about Team Sports and Travels, Bilingual French-Spanish, Reserve Military member, she is Curious, Dynamic and Open-Minded.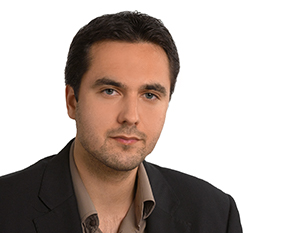 Matthieu Rames
Senior Inbound Marketing Leader
Inbound Marketing and Lead Generation Enthusiast, Pragmatic Marketer, SEM, Social Media, Email Marketing and Conversion Specialist, Entrepreneurial Spirit,
Curious and Self-Taught, Sportsman and Adventurer, Fascinated by the art of Magic and the Digital Universe.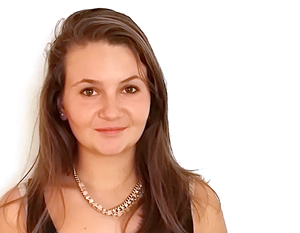 Audrey Bourdet
Junior Digital Marketing Leader
Young Digital Marketer, Trilingual French-English-Spanish, Audrey is an avid traveller, a great fan of horseback riding, passionate about the Cosmetics Universe and invested in the Humanitarian field. Discover a young Dynamic, Persistent and Open-Minded professional.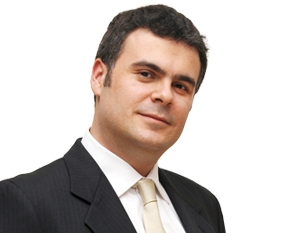 Sebastien Yanni
Principal Partner, Operations Director
Sébastien est Expert-Conseil en Stratégie et Inbound Marketing; Architecte passioné de la Transformation Digitale; Marketeur Spécialiste du SEO, PPC, Social Media, Email PPC, Conversion; Raconteur Didactique et Formateur Généreux; Entrepreneur Enthousiaste; Père et Mari attentionné.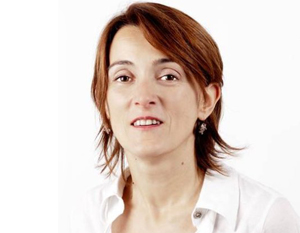 Corinne Petrelli
Partner, Strategic & Content Marketing
Dynamique, Pragmatique et analytique, Corinne est une référence du Marketing Stratégique et B2B. Marketeuse Multifacette, Exigeante, Inventive et curieuse, Corinne conçoit des contenus impactants pour produire des Résultats pérennes. Formatrice généreuse, Mère dédiée et Zumba Addict.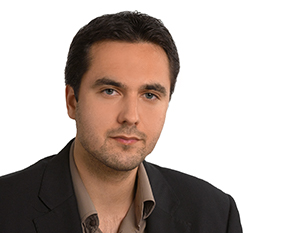 Matthieu Rames
Senior Inbound Marketing Leader
Enthousiaste de l'Inbound Marketing et du Lead Generation; Marketeur Pragmatique, Spécialiste du SEM, Social Media, Email Marketing et Conversion; Esprit Entrepreneur, Curieux et Autodidacte; Sportif & Aventurier; Fasciné par l'art de la Magie et l'univers du Digital.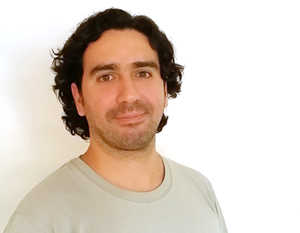 Gabriel Perdomo
Senior Creative & UX Designer
Gabriel est un designer web et graphique avec de grandes ambitions, enthousiaste par les nouvelles tendances créatives et digitales, aborde les défis du processus créatif en apportant des solutions visuelles qui maintiennent l'équilibre et l'avant-gardisme.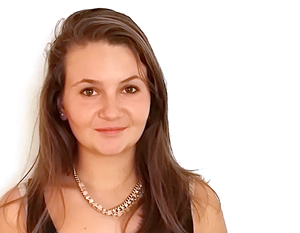 Audrey Bourdet
Junior Digital Marketing Leader
Jeune marketeuse digitale, trilingue français-anglais-espagnol, Audrey est mordue de voyage, fervente pratiquante d'équitation, passionnée par l'univers des cosmétiques et investie dans l'humanitaire. Découvrez une jeune professionnelle Dynamique, persévérante et ouverte d'esprit.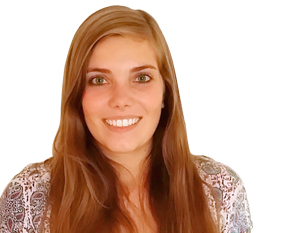 Pauline Giraud
Junior Digital Marketing Leader
Pauline est assistante Web Marketing, elle développe ses Compétences en Inbound Marketing, SEO, Social Media, étudiante passionnée de Sports Collectifs et de Voyages, Bilingue français-espagnol, Militaire de Réserve , Curieuse, Dynamique et Ouverte d'esprit.
Professional Opportunities
At Soyculto, we are all the time looking for new talents. If you are passionate about Digital World, Digital Innovations, Marketing or just looking for New Challenges, find here the professional opportunity that matches your expectations the more and submit us your application.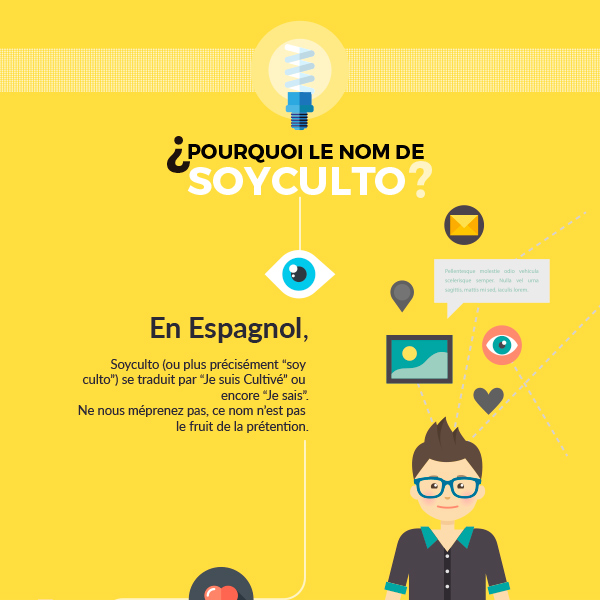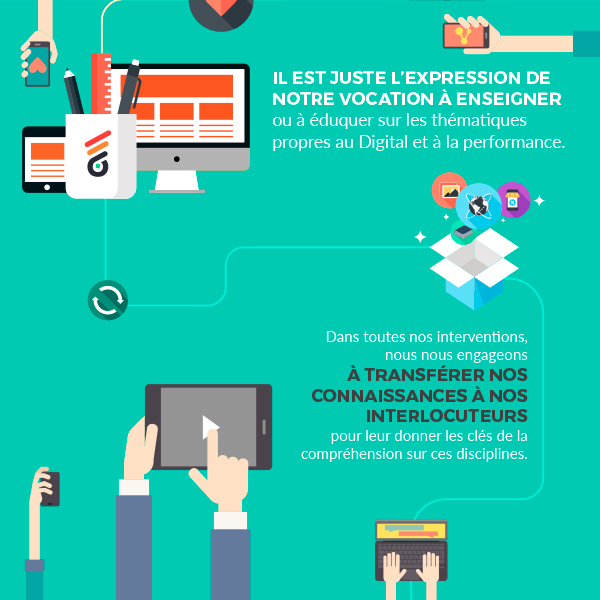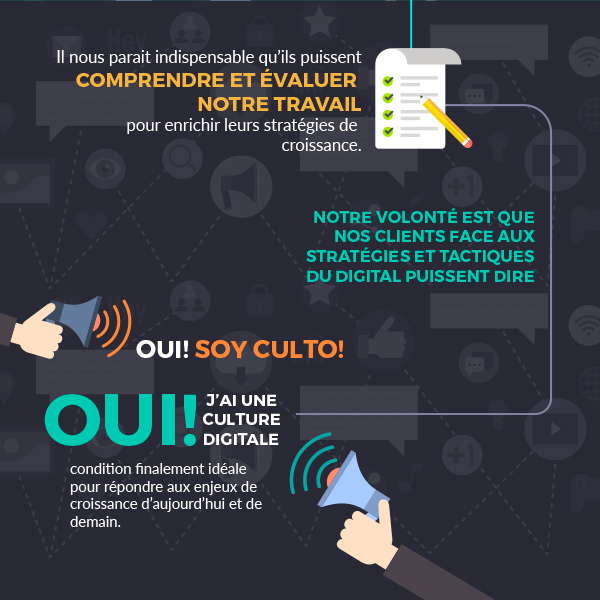 Educate on
Marketing and Digital Topics
More than a commitment, educating on Marketing and Digital topics is, for Soyculto and its team, a true vocation.
We are convinced that a strong performance and digital Marketing culture make the decision-maker more aware and efficient to face the growth challenges.
To transfer our knowledge to your team, we ought to give you access to our different material: detailed processes, didactics explanations, constant updates, trainings and personalized coaching.
Our educational commitment is oriented to: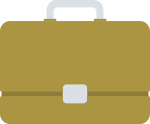 Our Clients
They need the appropriate knowledge to evaluate our intervention. They can, if needed, acquire enough autonomy to operate actions and processes by themselves.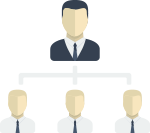 Our Team
In order to strengthen the skills of our team, every collaborator, whether he is expert in a specific Marketing or Digital field, is trained for the different occupations of Soyculto.

Our Community
We teach courses in universities, education institutes and organisations to share Marketing and Digital best practices to the widest range of Managers and decision makers.
Commitment Based on Excellence
Working with Soyculto is counting on a loyal partner, animated to find mutual growth. We are aware that our growth depends on yours, and we are implementing necessary strategies and actions to allow you to grow your business.
Our loyalty and commitment are 2 pillars of our agency on which we build strong trustful relationships. Thus, the average client collaboration exceeds 30 months (not to mention that our oldest client got on board in 2007).
During project conception, we define extremely precise fields of intervention. With this method, we commit to the following:

Excellence Commitment
We implement the latest best practices and the most rigorous standards in performance Marketing. Our solutions are evolving in a very dynamic Digital environment. In order to integrate in our different interventions the latest trends in digital Marketing, we implemented a continuous actualization process of our expertise.

Customer Commitment
Just like your collaborators, our team is committed to you. We give priority to long-term customer relationship instead of short-term opportunism.

ROI Orientation
We build our actions according to the objectives you want. In all our interventions, return on investment is at the center of our decision and recommendation process. We are committed to do our best to maximize the relation investment/efficiency.

Transparency Commitment
We implement strategies and actions at the highest degree of transparency. We present our results with the same openness, whether they are good or need to be improved. The budgets you provide us are justified and documented, and we use them with purposes of performance improvement.

Means/Resources Commitment
Digital Marketing is linked to big and independent partners (Google, Social networks…) that have their own motivations and that are impossible to control. So, committing on results can be difficult if not plain impossible. Thus, we only commit to provide all the means to allow our clients to achieve their objectives.
Professionalism Commitment
Since 2006, our professionalism has been built on strict rules of conduct. Our actions are driven and led by strong values.

Ethic Responsibility
Soyculto guarantee the highest standards when it comes to Business and Marketing. All of our staff comply to a strict ethical code.

Confidentiality
The respect of confidentiality is a founding principle of Soyculto. More than a promise, from the first commercial contact to 18 months after the end of the intervention, we implement a set of internal and external procedures of hermetic subdivision. Thus, we have been able to successfully work on simultaneous projects for competitors operating on the same market.

Privacy
All the information we gather are yours and we only keep what is necessary. Our Privacy Policy frames precisely our activities.